Research Associate* - Protein Engineering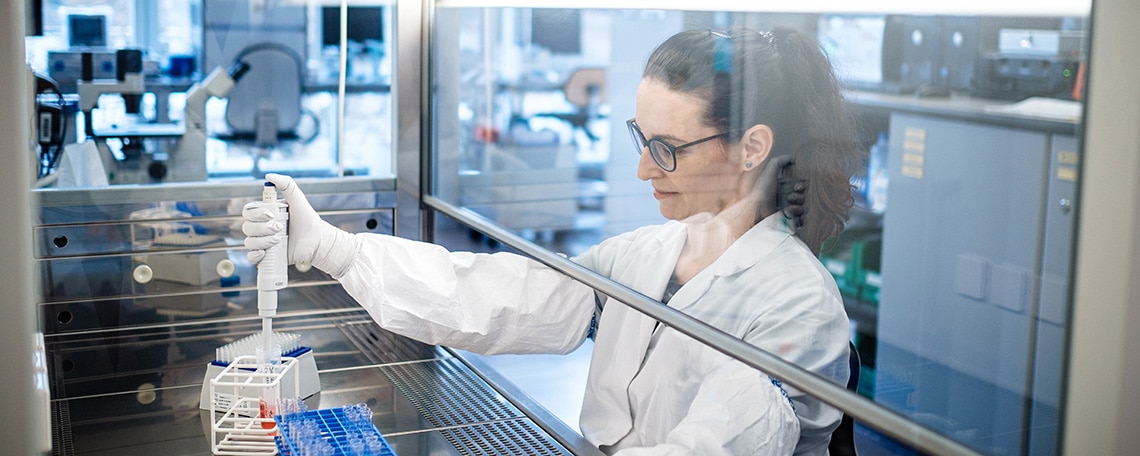 Become a member of the BioNTech Family!
BioNTech R&D Austria is a wholly owned subsidiary of BioNTech SE, focused on the development of novel antibacterial drugs to treat persistent bacterial infections. Our development programs are based on our proprietary LysinBuilder platform, which allows the targeted development of synthetic lysins for virtually any bacterial pathogen. We use a combination of randomized directed evolution approaches and rational in-silico engineering, coupled to high-throughput screening, to generate artificial lysins and develop them into drugs. The development pipeline focuses on chronic bacterial infections where antibiotics fail to cure or destroy the natural microbiomes. Our lead asset is BNT331, which we develop for the treatment of bacterial vaginosis. We also work on transforming the standard of care with lysins against several other infections and dysbioses.  
  
As Research Associate at BioNTech R&D Austria you will join our research team and help us bring next generation drugs from the bench into the clinic. 
Your main responsibilities are:
Within the scope of their assignment, autonomously execute series of experiments to support the developmental program, following established protocols and in accordance with general guidelines and instructions, including: 

Mammalian cell culture; cell line engineering; cell sorting 

Preparation of libraries for next generation sequencing (NGS) 

Discovery, engineering and directed evolution of enzymes 

Activity testing of lysins against bacterial strains (BSL-2 strains like Gardnerella, others)  

Isolation of bacteria from human and environmental samples  

Characterization of endolysins (e.g. MIC, lysis kinetic, biofilm assays) 

Actively participate in designing the required experiments and improving the established protocols, as part of the lab team 

If necessary, develop capabilities in operating advanced equipment, including programming of a pipetting robot or FACS systems  

Documentation of results according to the internal quality standards (near-GLP), to ensure the quality of the documentation meets the expectation of the authorities regarding a marketing authorization for a pharmaceutical

Maintain laboratory infrastructure, including purchasing of reagents and equipment, and constantly making materials like media and agar plates available, documenting and maintaining the inventory of biological materials
What you have to offer:
Completed university degree (BSc. or MSc.) in biochemistry, biology, molecular biology or a related subject or vocational training as lab technician (this position is not suitable for candidates with a PhD) 

At least 1 year of (cumulative) laboratory experience during internships or work experience. Extensive laboratory or biotech experience is a plus and will be reflected in the compensation package 
At least 6 months research experience in at least one of the following areas:

Mammalian cell culture, cell line engineering 

Preparation of libraries for NGS 

Engineering of proteins, combinatorial methods, library screening, FACS 

Protein expression and purification in E. coli, yeasts, or other expression systems 

Microbiological assays involving proteins (biofilms, MIC assays, enzymatic assays etc.) 

Interest in targeted pharmaceutical development

Interest in working in a team of highly skilled and motivated professionals 

Fluent in English  
Benefits for you:
Become part of developing a new drug class in anti-infectives 

Take responsibility for specific parts of the development program and work together with highly experienced researchers in executing the development plan 

Pioneer new methods and processes to industrialize key research techniques 

Be part of a highly motivated, multinational and fun team that believes synthetic lysins can be part of the solution to the global antibiotics crisis 

A competitive compensation package that reflects the qualifications and seniority of the candidate and may include further, e.g. performance-based, incentives.  

Due to legal requirements, we are obliged to state that the minimum salary for this job is based on the applicable collective bargaining agreement and is currently set at EUR 2.175,56 gross per month. Remuneration will be market oriented and in line with the experience and qualifications of the successful candidate. 
Have we kindled your pioneering spirit? 
Then apply now for our location Wien and simply send us your application documents using our online form.

If you have any further questions, our Talent Acquisition Team will be happy to answer them on + 49 (0) 6131-9084-1291 (monday-friday, from 12 noon to 4 pm).

Job-ID 5745 (please indicate for inquiries)

We look forward to your application!

*BioNTech does not tolerate discrimination, favoritism, or harassment based on gender, political opinion, religion or belief, nationality, ethnic or social origin, age, sexual orientation, marital status, disability, physical appearance, health status or any other aspect of personal status. We are committed to creating a diverse and inclusive environment and are proud to be an equal opportunity employer. Most important – it's a match!

BioNTech - As unique as you

www.biontech.com