Expert* Protein Bioinformatics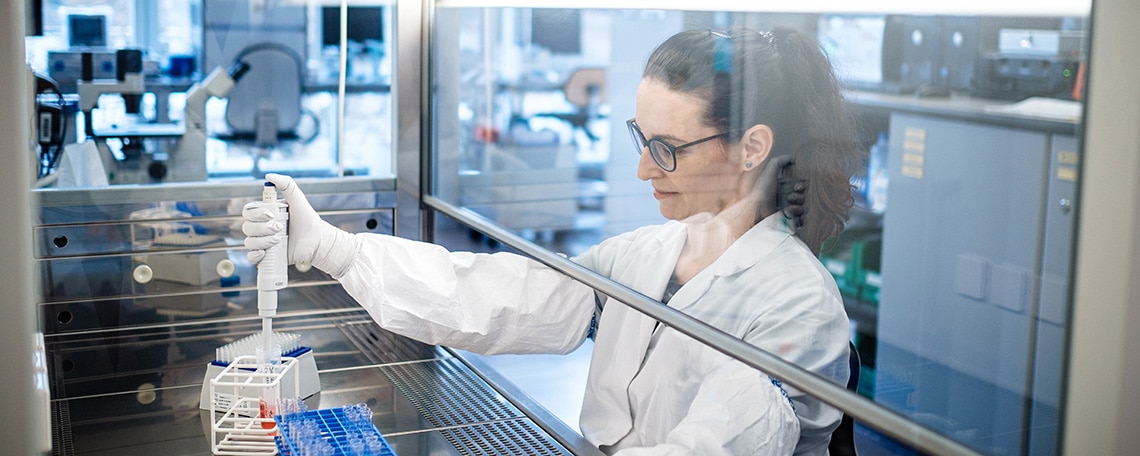 Become a member of the BioNTech Family!
As a part of our team of more than 4.000 pioneers, you will play a key role in developing solutions for some of the most crucial scientific challenges of our age. Within less than a year, we were able to develop our COVID-19 mRNA vaccine following the highest scientific and ethical standards – writing medical history.
 
We aim to reduce the suffering of people with life-changing therapies by harnessing the potential of the immune system to develop novel therapies against cancer and infectious diseases. While doing so, we are guided by our three company values: united, innovative, passionate. Get in touch with us if you are looking to be a part of creating hope for a healthy future in many people's lives.
Expert* Protein Bioinformatics
BioNTech R&D Austria is a wholly owned subsidiary of BioNTech SE, focused on the development of novel antibacterial drugs to treat persistent bacterial infections. Our development programs are based on our proprietary LysinBuilder platform, which allows the targeted development of synthetic lysins for virtually any bacterial pathogen. We use a combination of randomized directed evolution approaches and rational in-silico engineering, coupled to high-throughput screening, to generate artificial lysins and develop them into drugs. The development pipeline focuses on chronic bacterial infections where antibiotics fail to cure or destroy the natural microbiomes. Our lead asset is BNT331, which we develop for the treatment of bacterial vaginosis. We also work on transforming the standard of care with lysins against several other infections and dysbioses.
 
As Expert* Protein Bio-Informatics at BioNTech R&D Austria you will join our research team and help us bring next generation drugs from the bench into the clinic.
Your main responsibilities are:
Design & implement workflows for 3D structure/AI-based protein engineering

Interface with internal bioinformatics groups to drive workflow development

Balance coding and programming scripts where required with project management of multiple parties to implement workflows

Supervise lysin data and AI projects across multiple BioNTech expertise groups

Support team with general bioinformatics-related work (e.g. interpretation sequencing data)

Rational protein engineering: predict mutations required to achieve lysin improvements across various dimensions of the research target profile for drug candidates.

Set up methods and processes for sequence-structure-activity relationship analysis, including the interpretation of data from screens

Coordinate external vendors for projects related to the above

Drafting of patent claims as appropriate, publication of selected results in scientific journals
What you have to offer.
PhD in a relevant field involving in silico protein design, 3D protein structure analysis, protein engineering or directed evolution, with a strong bio-informatics aspect

Post-Doc or industry experience in protein bio-informatics is a welcome add-on qualification that will impact job title and compensation package

Strong background in protein bio-informatics with a proven track record (publications, patents or white papers)

Experience in one or more of the following fields: directed evolution/engineering of enzymes, analysis of next-gen sequencing data for proteins, artificial intelligence applications

Comfortable in a fast-paced environment and able embrace change, while working to produce key deliverables in accordance with project timelines

Proactive, self-motivated team player with strong interpersonal skills, appropriate sense of urgency and the ability to work independently

Excellent communication and presentation skills to efficiently relay information to project teams and other key stakeholders

Proficiency in English (written and spoken)



Benefits for you. 
Take responsibility for a key research and competence field within BioNTech

Pioneer new methods and processes to enable the development of next generation drugs

Be part of a highly motivated, multinational and fun team that believes synthetic lysins can be part of the solution to the global antibiotics crisis

A job title and a competitive compensation package that reflects the qualifications and seniority of the candidate. Due to legal requirements, we are required to state that the minimum salary for a junior candidate is a monthly salary of EUR 4.000,-- gross.
Have we kindled your pioneering spirit? 
Then apply now for our location Wien and simply send us your application documents using our online form.

If you have any further questions, our Talent Acquisition Team will be happy to answer them on + 49 (0) 6131-9084-1291 (monday-friday, from 12 noon to 4 pm).

Job-ID 2965 (please indicate for inquiries)

We look forward to your application!

*BioNTech does not differentiate on the basis of gender, political opinion, religion or belief, nationality, ethnic or social origin, age, sexual orientation, marital status, disability, physical appearance, health status or any other aspect of personal status. We are committed to creating a diverse and inclusive environment and are proud to be an equal opportunity employer. Most important – it's a match!

BioNTech - As unique as you

www.biontech.com